Quick Info→
Date of Death: 18/07/1948
Age: 30 Years
Marital Status: Unmarried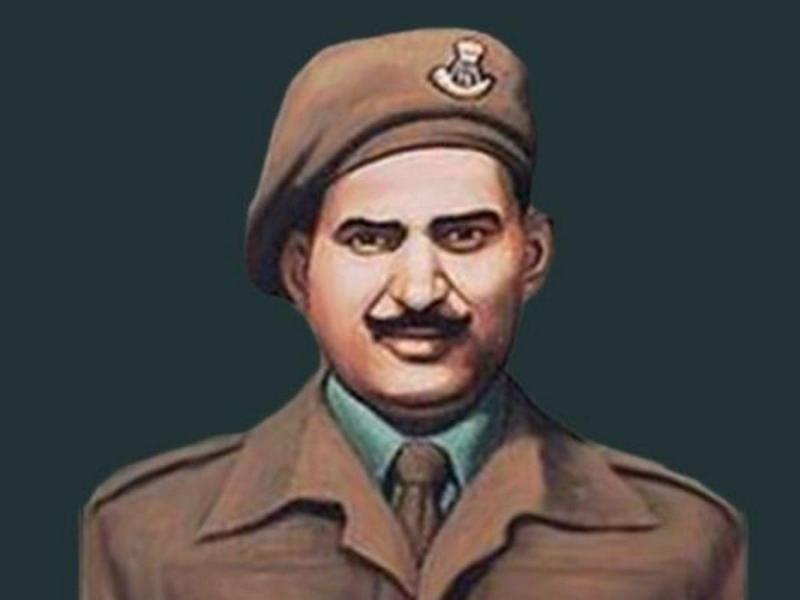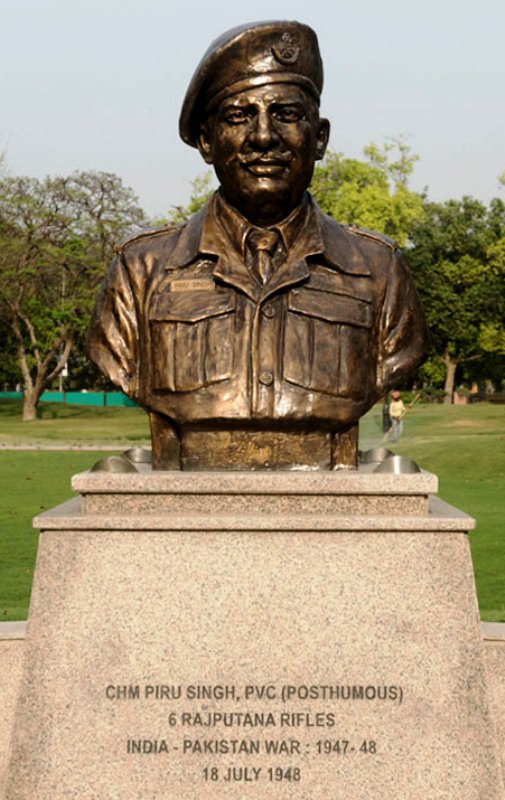 Some lesser known facts about Piru Singh Shekhawati
Company Havildar Major Piru Singh Shekhawat was awarded the country's highest gallantry award, the Param Vir Chakra, for the role he played during the Battle of Tithwal, a part of the Indo-Pakistani War of 1947–48. Piru Singh died on 18 July 1948 after being injured during the Battle of Tithwal with Pakistani invaders.
Piru Singh did not like going to school. As a child, he often felt restricted in the school environment, which he saw as a hindrance to his personal development.
As a student, Piru Singh once got into an argument with one of his classmates, as a result of which he was scolded very harshly by his teacher. Piru Singh left the school in anger and never returned to complete his education.
As a young boy, Piru Singh started helping his parents with household chores and farm work at home.
Piru Singh loved sports, he also loved going for hunting. Right from his childhood, he wanted to join the army because of the rich military service traditions of his family.
Piru Singh was rejected twice from the army because he was not yet of age to join the army, and only on his third attempt, did he finally succeed in joining the army as a recruit.
After completion of training Piru Singh was not sent to the Rajputana Rifles, but was initially sent to the 10th Battalion of the 1st Punjab Regiment, and was later transferred to the 5th Battalion of the 1st Punjab Regiment.
Piru Singh performed exceptionally well in his military career, as a result of which he was posted as an instructor at the Punjab Regimental Center at Jhelum.
[PiruSinghwasdeportedtoJapanin1945aspartofthealliedoccupationalforces;fromwherehereturnedin1947[1945मेंपीरूसिंहकोजापानमेंसंबद्धव्यावसायिकबलोंकेएकभागकेरूपमेंजापानभेजागयाथा;जहांसेवे1947मेंलौटेथे।
After the end of World War II, CHM Piru Singh immigrated from Japan to an independent India, where he took an oath to serve and defend India.
Upon his arrival, India and Pakistan had already fallen in the Indo-Pakistani War of 1947–48. CHM Piru Singh was once again transferred from the Punjab Regiment to the 6th Battalion of the Rajputana Rifles.
Piru Singh and his Delta Company were tasked with capturing the southern end of the hill town of Tithwal, which was crucial for establishing a strong foothold in Nowshera.
On 18 July 1948, Piru Singh and his men came under heavy fire from enemy machine-guns and mortars. The fire was coming from enemy bunkers located along the ridge of Tithwal, inflicting heavy losses on Indian Army personnel.
Piru Singh completely disregarded his personal safety and started climbing the steep slopes to reach the enemy bunkers. The enemy was throwing grenades at Piru Singh apart from firing with a machine gun.
CHM Piru Singh Shekhawat was seriously injured in this action. Despite bleeding profusely from his wounds, CHM Piru Singh managed to clear the enemy's first two bunkers using his bayonet and the remaining grenades; Because he had run out of ammunition for his weapon.
By the time CHM Piru Singh had reached the top of the ridge; His entire company was either dead or seriously injured.
Piru Singh wanted to clear the enemy's last and third bunker, which he did, but as he was exiting the second bunker, he was hit by a bullet in the head as the enemy moved towards the third bunker.
But before he fell, Piru Singh managed to hurl a grenade into the bunker, thus neutralizing the enemy's last stronghold and giving the Indian Army their much-awaited victory.
CHM Piru Singh brought his first Pram Vir Chakra to the Rajputana Rifles Regiment. To honor the martyr, the regimental center of Rajputana Rifles has named a company as Piru Company.
Raaz Riff Ke Veer Hum, Kaal Ke Kaal Bhi Kaal
Ducking is difficult, so the lands are red.

I am in Piru Company, in Rajputana Rifles Centre. As I stand in front of the red stone barracks, I feel the presence of CHM Piru Singh Shekhawat, the legend of Param Vir Chakra. #Patriot pic.twitter.com/MxaI9v7UkS

— Major Gaurav Arya (Retd) (@majorgauravarya) October 17, 2018
Every year, May 23 is observed as Tithwal Diwas, which marks the heroic actions of CHM Piru Singh to eliminate enemy defenses from the area.
Piru Singh's maneuver, "Bolo Raja Ram Chandra Ki Jai" meaning 'Hail Lord Ram' struck fear in the hearts and minds of the defending enemy; Piru Singh climbed the steep slopes despite being injured and heavy enemy fire.
Hearing about the bravery shown by CHM Piru Singh Shekhawat, even the then Prime Minister Pandit Jawaharlal Nehru was very impressed and so in a letter to his mother, Nehru wrote,


He paid for his life for his prodigious bravery, but he left a unique example of unrelenting bravery and resolute courage for the rest of his comrades. The nation is grateful to you for this sacrifice made in the service of the motherland, and it is our prayer that it gives you some peace and comfort.