Quick Info→
Age: 29 Years
Marital Status: Unmarried
Father: Bankim Bihari Das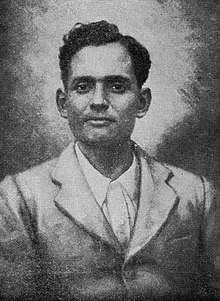 Some lesser known facts about Jatindra Nath Das
Jatindra Nath Das was an Indian activist and revolutionary freedom fighter. He was an active member of Hindustan Socialist Republican Association and participated in many Indian freedom struggle movements. He died at the age of 29 in Lahore Jail after fighting for India's independence after a 63-day hunger strike.
Jatindra Nath belonged to a middle-class family in Calcutta. He was a bright student in studies and completed his matriculation with first class. Soon after finishing his schooling, Jatindra Nath Das joined a revolutionary group called Anushilan Samiti in Bengal. At the age of seventeen, Jatindra Nath Das actively participated in the non-cooperation movement, which was started by Mahatma Gandhi in 1921.
Later, Jatindra Nath Das joined the Bangbasi College in Calcutta to pursue a degree in Bachelor of Arts. In November 1925, he was detained by the British police for his involvement in political activities and was sent to Mymensingh Jail. During his stay in jail, Jatindra Nath Das experienced the mistreatment meted out to political prisoners in jail and went on a hunger strike to protest the same. The jail superintendent apologized to Jatindra Nath Das after a twenty-day fast and soon Jatindra Nath gave up the fast. Later, Jatindra Nath Das learned to make bombs from Sachindra Nath Sanyal, a famous political freedom fighter from Bengal.
On 14 June 1929, Jatindra Nath Das was again taken into custody by the British police for his involvement in the revolutionary activities of the Lahore Conspiracy Case.
Jatindra Nath Das was imprisoned in Lahore Jail, where he launched another hunger strike demanding equal treatment for Indian political prisoners and Europeans. Jatindra Nath Das was troubled by the pathetic condition of the Indian prisoners lodged in the jail. Indian prisoners wore dirty uniforms which were not washed for several days and various rats and cockroaches were seen around the kitchen area making the food unhealthy for Indian prisoners to eat. The reading and writing papers were also not provided by the British authorities to the Indian prisoners. However, prisoners of British origin were provided with first class facilities.
Jatindra Nath Das started his hunger strike on 13 July 1929. During his hunger strike, Jatindra Nath Das was brutally beaten up by the British officers, who tried to force-feed him when Jatindra Nath was on hunger strike. His lungs were damaged and the paralysis spread to various parts of his body. As a result, he was released by the prison authorities; However, the British government rejected his unconditional release and released him on bail.
Muhammad Ali Jinnah gave a speech on 12 September 1929, a day before the martyrdom of Jatindra Nath Das. Jinnah said,


One who goes on hunger strike has a soul. He is influenced by that spirit and he believes in the justice of his cause."
Jatindra Nath Das died on 13 September 1929 after 63 days of hunger strike. famous Indian freedom fighter Durgavati Devi Led his funeral procession from Lahore Jail to Calcutta. Thousands of Indians joined the train in this funeral procession. In Calcutta, the coffin of Jatindra Das was received by Subhas Chandra Bose at the Howrah railway station, and was carried to the two-mile-long cremation ground.
Reportedly, his funeral procession, considered one of the largest gatherings in Kanpur, was led by Durgavati Devi along with Ganesh Shankar Vidyarthi and Jawaharlal Nehru, and was led by Kamala Nehru in Allahabad.
Soon after his death, the then Viceroy of India informed London that –


Mr. Das of the Conspiracy Case, who was on hunger strike, passed away at 1 pm today, last night five hunger strikers gave up their hunger strike. So, only. Huh Bhagat Singh And Batukeshwar Dutt who is on strike."
The hunger strike started by Jatindra Das in the Lahore Jail was a pivotal moment that inspired other freedom fighters to fight against illegal detention by the British government.
After the death of Jatindra Das, the leaders of the Punjab Legislative Council, Mohammad Alam and Gopi Chand Bhargava, resigned from their posts in protest against the death of Jatindra Nath Das. Soon, Motilal Nehru adjourned the Central Assembly to protest the mistreatment of the prisoners of Lahore. Jawahar Lal Nehru On the death of Jatindra Nath Das, he said that India would soon get independence after experiencing such martyrdom. He said,


Another name has been added to the long and glorious role of Indian martyrs. Let us bow our heads and pray that we find strength to continue the struggle, no matter how long it may be and whatever the outcome, until victory is ours. ,
Subhas Chandra Bose considered Jatindra Nath Bose as the Dadhichi of India. Dadhichi was a famous mythological yogi who sacrificed his life to kill a demon.
Soon after a photograph of Jatin's body appeared in the Tribune newspaper in 1929, the British Empire was forced to change its policy of handing over the bodies of Indian freedom fighters to their families. This picture almost shook the soul of the Indian people.
Cama McLean, Associate Professor of South Asian and World History at the University of New South Wales, Australia, in her book "A Revolutionary History of Interwar India" states that nationalist politics was greatly affected by the death of Jatindra Nath Das. She wrote,


Das's death had a major impact on nationalist politics, as depicted on the front page of The Tribune. After this the British stopped handing over the dead bodies of the revolutionaries to their families.

He said the body of Jatindra Nath Das was handed over to his relatives after his death, but his funeral procession created a sensation in the media. She wrote,

Jatin Das's body was handed over to the family, but the Bengal Congress took the responsibility of bringing him back to Bengal. The train stopped at major stations and many people saw the body. This created a sensation in the press and came back to Calcutta.
Jatindra Nath Das's younger brother Kiran Das was allowed to stay with Das during his hunger strike so that he could take care of him.
A book titled "Profile of Shaheed Jatin Das" states that the photograph of the dead body of Jatin Das was clicked at the entrance of Lahore Jail on the evening of 13 September 1929. It states,


After the dead hero was photographed, the beer was decorated with garlands and flowers. Jatin's body was buried under a pile of flowers soaked in fragrant water. His head lying on a large pillow was the only skull. A bloodless face with sunken cheeks and eyeballs deep in the pockets were traces of the agony of death. It was easy to see that he had died inch by inch. ,
Not a single shop opened from Lahore to Calcutta during his funeral procession. People showered coins on his dead body, and some people were seen picking up those coins and were heard saying that they would use the coins as ornaments for their children.
Shiv Varma, who was one of the companions of Jatindra Nath Das, has mentioned the nature of Jatindra Nath in Shiva Varma's book Sanskriti. Shiv Varma said that Jatindra Nath Das was a serious looking, healthy and soft spoken person.
During his detention period and hunger strike, Jatindra Das neither followed the doctors' advice nor accepted their medicines. Even well-known Congress leaders tried hard to persuade him. Later, he took medicines on the advice of Bhagat Singh, Once someone asked him why he always followed Bhagat Singh's advice, Jatindra Nath Das replied,


You don't know how brave he is! I can never refuse his prasad."
Reportedly, before starting his hunger strike, Jatindra Nath Das told his comrades that the hunger strike was a fight against the British Empire in India and that death inch by inch was more difficult than dying by hanging. Jatindra Nath Das said,


By declaring this hunger strike, we are jumping into a battle that will be difficult to fight, even harder than a gunfight. Creeping to death inch by inch is more difficult than death by bullet or death by hanging. Jumping back into the struggle would be against the dignity of the revolutionaries. It is better not to get involved in the struggle than to withdraw yourself in the middle.
In 1979, the Government of India issued a postage stamp bearing the name and picture of Jatindra Nath Das.
In 2002, in the film 'The Legend of Bhagat Singh', the character of Jatindra Nath Das was portrayed by Indian actor Amitabh Bhattacharjee.
In 2009, a documentary film titled 'Amar Shaheed Jatin Das' was released, and it was a thirty-five minute story that depicted the life sacrifice of Jatindra Nath Das for the sake of his countrymen.
Later, a statue was erected at Jatindra Das Nagar in West Bengal in memory of Jatindra Nath Das and to honor his sacrifices for India's independence.
In their analysis of 'How Empire Mattered: Imperial Structures and Globalization in the Era of British Imperialism' – a research paper that studied the lives of hunger strike victims and the British's behavior towards under-trial prisoners, their analysis concluded that colonial The government kept thousands. Revolutionary in prison without trial. studied this,


Jatin Das's hunger strike in 1929 which resulted in his death was a pivotal moment in the resistance against illegal captivity; The hunger strikes in Deoli in 1932 and the Andaman Islands in 1934 and 1937 further aggravated the problem of public relations, which the colonial government faced in justifying why they were keeping thousands of people in jail without trial."