Quick Info→
Marital Status: Unmarried
Age: 21 Years
Date of Death: 16/12/1971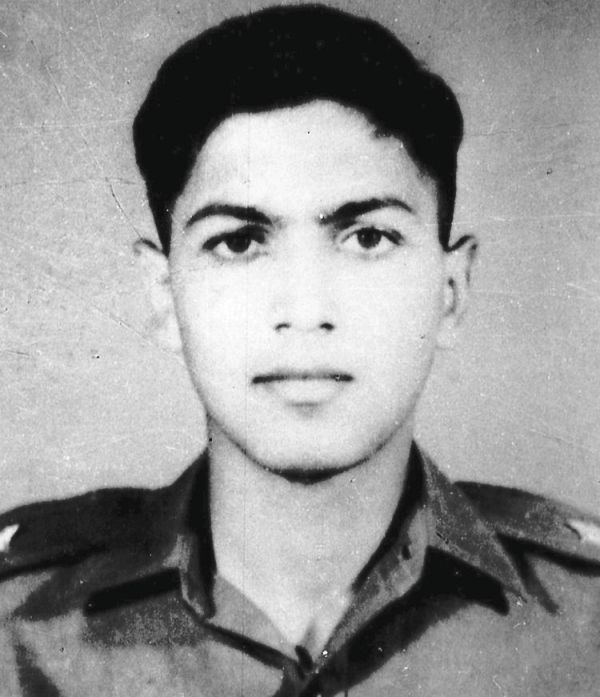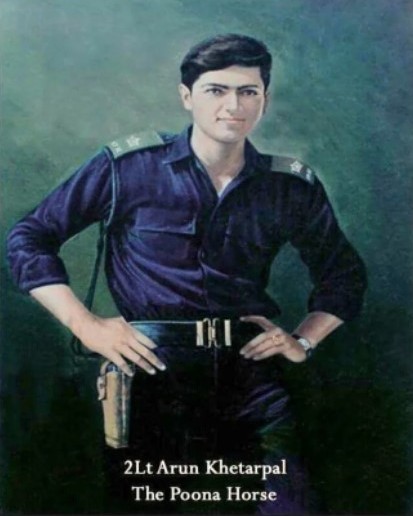 Some lesser known facts about Arun Khetrapali
Second Lieutenant Arun Khetrapal was an officer in the Indian Army who was posthumously awarded the Param Vir Chakra for his gallant actions during a tank battle with the enemy at the Battle of Basantar during the Indo-Pakistani War of 1971. Arun Khetrapal passed away. On 16 December 1971, due to the wounds he sustained during a protracted battle with the enemy.
As a young child, Arun was sent to Lawrence School, Sanawar, where he came across as not only an excellent student but also an outstanding sportsman.
Arun was later made the school prefect for his outstanding and all-round performance.
Arun was born in a family with rich military traditions. Arun's father was also an officer in the Indian Army, who served in the Corps of Engineers.
After partition, Arun's family moved to India. He traced his roots to Sargodha, Punjab Province, British India (now in Pakistan).
After completing his schooling in 1967, Arun passed the entrance examination and joined the National Defense Academy.
Arun did exceptionally well in the NDA. As a result of which, he was commissioned as Squadron Cadet Captain.
After completing 3 years of rigorous training in the NDA, Arun was sent to the Indian Military Academy in 1970.
Joining the army, Arun was undergoing the Young Officers' Course, when war broke out between India and Pakistan, Arun was recalled to his unit, 17 Poona Horse, and sent to the western frontier with his unit. Gone.
Arun's unit was ordered to establish and secure a bridgehead in the Shakargarhi sector of Pakistan. On 15 December 1971, the Indian Army captured Shakargarhi and forced Pakistani troops and armored troops to retreat.
On 16 December 1971, a Pakistani armored column attacked an Indian tank column belonging to 'B' Squadron of Poona Horse. 'B' Squadron was heavily attacked by enemy tanks, as a result, B Squadron called for additional reinforcements.
Arun Khetrapal responded quickly to this request. Arun was the Commander of 'A' Squadron.
Arun Khetrapal immediately led the attack against the counter-attacking Pakistani tanks. Arun and his squadron destroyed several Pakistani tanks and thwarted their attempts to break through the Indian lines.
During the final phase of the tank battle, Arun Khetrapal's tank was badly damaged and caught on fire. The tank was disabled and as a result, it could not move.
Arun's tank was the last tank of his squadron, and despite being mortally wounded, Arun Khetrapal continued firing and firing at enemy tanks and managed to destroy a total of 10 Pakistani state-of-the-art Patton tanks.
Arun Khetrapal was ordered by his commanding officer to release the disabled fuming tank, to which Arun replied,
No sir, I will not leave my tank. My main gun is still working and I will catch these bastards.
While trying to take down the tank of Pakistani Armored Column Commander Major Khwaja Mohammad Naser, Arun Khetrapal's tank made the final hit, as a result of which, he succumbed to his injuries.
The tank with which Second Lieutenant Arun Khetrapal fought the Battle of Basantar was a British-origin Centurion Mark 7 tank. His tank was named Famagusta, a town in Cyprus where 17 Poona Horse fought during the later stages of World War II.
The damaged tank was later repaired by the Indian Army and installed at the Armored Corps' Regimental Center in Ahmednagar, Maharashtra.
#FAMAGUSTA: Centurion Tank #poona horse commanded by #Story second lieutenant #Arun Khetarpal In 1971 Battle of Basantar 8 Pak Patton tanks were destroyed. Honored, privileged and blessed to stand before it. With the current Commandant. story soon @IndiaToday #indiafirst pic.twitter.com/7oxOgWG1f2

— Gaurav C Sawant (@gauravcsawant) 13 October 2018
In 2001, Brigadier ML Khetrapal decided to move to Pakistan, to visit his native hometown in Sargodha, Pakistan. There he became the special guest of another retired Brigadier of the Pakistani Army. His name was Khwaja Mohammad Nassar, who took the last shot at Arun's tank during the tank battle at the Battle of Basantar.
Khwaja Mohammad Nasir later spoke to Arun's father and told him everything he had to say. He said,


Sir, there is something I wanted to tell you for many years but I didn't know how to reach you. Finally, fate intervened and sent you to me as an honored guest. For the past few days we have become closer to each other and this has made my work even more difficult. It is about your son who is definitely a national hero in India. However, on that fateful day, your son and I were soldiers, unaware of each other, fighting for the honor and security of our respective countries. I am sorry to inform you that your son died at my hands. Arun's courage was exemplary and he carried his tank with fearless courage and courage, completely unconcerned about his safety. Tank casualties were enormous until at the end only two of us were facing each other. We both fired together. Destiny was that I had to live and she had to die. It was only later that I came to know how young he was and who he was. I always thought I'd apologize to you, but in telling the story I realized there's nothing to be forgiven. Instead I salute your son for what he did at such a young age and I salute you too, because I know how he became so young. In the end it is the character and values ​​that matter. ,

After the declaration of ceasefire on 16 December 1971, the Pakistani tank commander, Khwaja Mohammad Nassar, went to Arun Khetrapal's disabled tank to inquire about the gallant officer who had single-handedly faced so many Pakistani tanks. He asked the Indian soldiers, "Your Saheb fought very bravely in the battlefield, I hope he is not injured. To which the Indian soldiers replied, "Saheb has been martyred and is no more."
Before leaving for the battle, a senior officer saw Arun carrying his suit and formal military attire to the battlefield. Later in an article written by Dilbag Singh Dabas the author wrote,


Seeing Arun carrying his ceremonial blue patrol clothes and golf club, his fellow officer asked Arun why he needed them to fight the war. And the 21-year-old's reply was classic: Sir, I plan to play golf in Lahore. And I'm sure there will be dinner after winning the battle, so I'm going to need a Blue Patrol dress as well.
Before leaving for the Indo-Pakistani War of 1971, Arun was at his home on leave. While the family was having dinner, Arun's mother told him,


Your grandfather was a brave soldier, so is your father. Go fight like a lion till the end."
Had it not been for the action of Second Lieutenant Arun Khetrapal, the Pakistani armored units would have made a breakthrough through the Indian security forces. In an article written by Major (Retd) AH Amin, a Pakistan Army officer, he said,
The only occasion when there could have been a breakthrough was when two squadrons of 13 Lancers attacked together in the afternoon, but a heroic last ditch by 2/Lt. Arun Khetrapal of Poona Horse averted the threat.
Arun Khetrapal also had a keen interest in music. Therefore, he learned to play the saxophone. Arun was so good at playing the instrument that he was even made a part of the music band of the National Defense Academy.